WATER
OUR WATER COMMITMENT
At Woolworths, we're doing all sorts of things to reduce water consumption, from actively monitoring almost all of ours stores and harvesting rainwater at some of our stores and distribution centres, to working with our suppliers to reduce water use through Farming for the Future and our Water Stewardship Project in the Western Cape.
We want to ensure that future generations will still be able to enjoy clean, fresh water. That's why we're actively working to save water by drastically reducing the amount of water we consume in our own operations and those of our suppliers.
Click on the banner below to see our dedicated water saving and Day Zero guide.

THE NEW NORMAL
South Africa is a water scarce country, and the thirtieth driest country in the world. We are currently living through the one of the worst droughts in the country's history, with many parts of the country experiencing severe water shortages and declining dam levels. Restrictions are the order of the day, and it is now the responsibility of every company, community, and individual to save more, waste less.
Around the country we are seeing the effects of the drought, with the national government declaring the drought affecting the southern and western areas of South Africa a national disaster.
Three provinces - The Northern Cape, Western Cape, and Eastern Cape - have already been declared provincial disasters. The southern part of the Eastern cape has been hardest hit, with five dams currently at critically low water levels. The combined capacity of Nelson Mandela Bay's is at an all-time low of 26.09%
Residents are encouraged to limit their water consumption to 50 litres per person per day and households to 400 litres per day, or 12 kilolitres per month.
Our emphasis is on getting everyone to make the small changes required to make a huge collective difference, and ease the immense burden on our water supplies. We need your help to conserve our precious resource and we need to work together to help change the way we use our water. This is the new normal.
.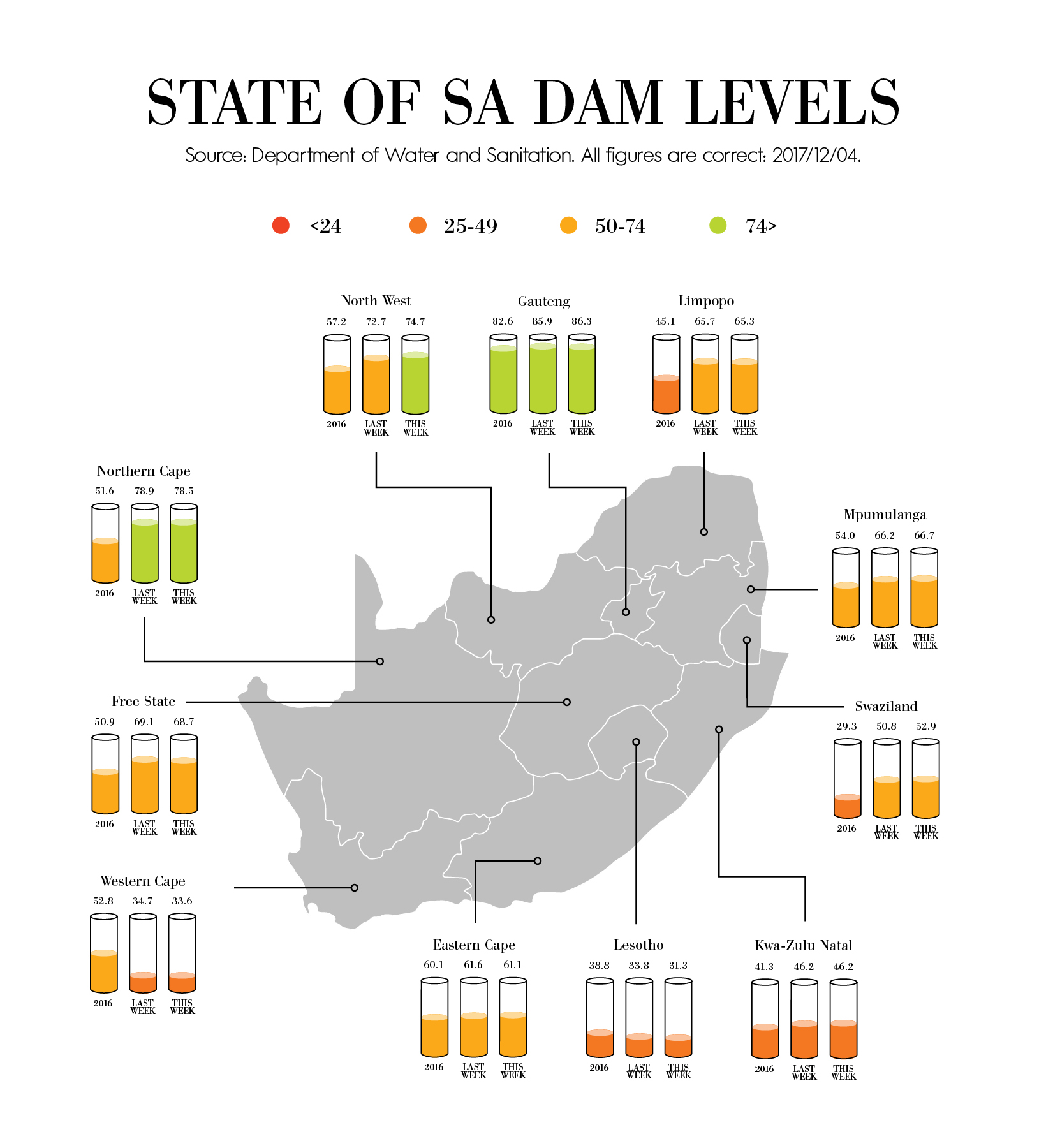 KNOW YOUR WATER USAGE
Three provinces in South Africa are currently declared provincial disasters as a result of the drought, and everything possible needs to be done to save precious water resources.
In Cape Town, Level 6B water restrictions mean that all residents should limit water use to just 50 litres per person per day to ensure that available water supply is conserved. With water used in houses accounting for a large proportion of usage in urban areas, it is important that we each take on the necessary steps to be water wise at home and at work.
Saving starts with knowing how much you use. Set a reminder to check your water meter reading each week and check your weekly usage. Alternatively, the City of Cape Town's Water Calculator, located below, is a great way to estimate your daily use, and find out how you can reduce it.

HOW WE'RE DOING OUR BIT
We want to ensure that future generations will still be able to enjoy clean, fresh water. That's why we're actively working to save water in our own operations and those of our suppliers.
At our head office, we're tapping into an underground water supply, saving the local municipality. Currently, 57% of our head office water comes from this source.

We have installed water pulse meters in 90% of SA stores to accurately monitor water usage. This has allowed us to pick up underground leaks and prevent unnecessary water wastage. Our relative water consumption across stores has dropped by 56% from our 2007 benchmark.

We're implementing rainwater harvesting and reuse systems at our water thirsty distribution centres across the country. This means that we're reducing our reliance on precious treated water for activities like tray and floor washing as well as toilet flushing.

We're helping farmers reduce water wastage and water pollution through our farming for the Future initiative. 95% (259) of our primary produce suppliers and 87 of our secondary suppliers are participating

Through the WWF-SA's Water Balance project, we continue to work extensively in clearing alien vegetation that is estimated to capture up to 7% of South Africa's already scarce water resources. By doing this, we are able to protect our important water resource areas.