WATER CONSERVATION
OUR WATER COMMITMENT
At Woolworths, we're doing all sorts of things to reduce water consumption, from actively monitoring almost all of ours stores and harvesting rainwater at some of our stores and distribution centres, to working with our suppliers to reduce water use through Farming for the Future and our Water Stewardship Project in the Western Cape.
We want to ensure that future generations will still be able to enjoy clean, fresh water. That's why we're actively working to save water in our own operations and those of our suppliers.

THE NEW NORMAL
South Africa is a water scarce country, and the thirtieth driest country in the world. Around the country we are seeing the effects of the drought, with the national government declaring the drought affecting the southern and western areas of South Africa a national disaster.
Our emphasis is on getting everyone to make the small changes required to make a huge collective difference, and ease the immense burden on our water supplies. We need your help to conserve our precious resource and we need to work together to help change the way we use our water. This is the new normal.
To view weekly updated dam levels in South Africa, click here
.

KNOW YOUR WATER USAGE
Wherever you are in South Africa, everything possible needs to be done to save precious water resources.
In Cape Town, strict water restrictions mean that all residents need to limit water use to just 50 litres per person per day to ensure that available water supply is conserved.
Saving starts with knowing how much you use. Set a reminder to check your water meter reading each week and check your weekly usage. Alternatively, the City of Cape Town's Water Calculator, located below, is a great way to estimate your daily use, and find out how you can reduce it.
LIVE THE 50 LITRE LIFE
From cooking to cleaning our houses and cleaning ourselves, there's a lot we can do to be more water wise. Brush up on your knowledge using our resources below, and find out more about water conservation with WWF South Africa.
WHAT DOES 50 LITRES LOOK LIKE?
A question many people have is exactly what you can do with 50 litres per person per day.
Here's what 50 litres could look like in your day-to-day life.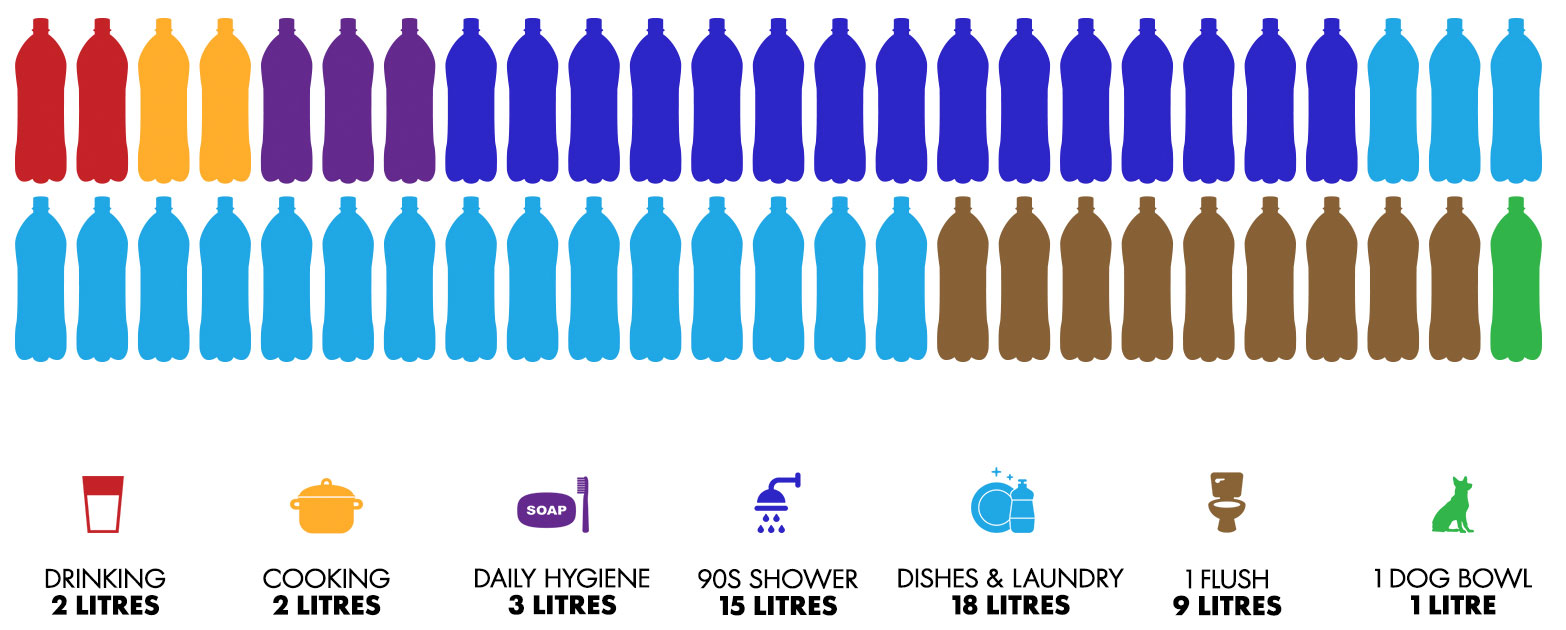 HOW WE'RE DOING OUR BIT
We want to ensure that future generations will still be able to enjoy clean, fresh water. That's why we're actively working to save water in our own operations and those of our suppliers.
At our head office, we're tapping into an underground water supply, saving the local municipality. Currently, 57% of our head office water comes from this source.

We have installed water pulse meters in 90% of SA stores to accurately monitor water usage. This has allowed us to pick up underground leaks and prevent unnecessary water wastage. Our relative water consumption across stores has dropped by 56% from our 2007 benchmark.

We're implementing rainwater harvesting and reuse systems at our water thirsty distribution centres across the country. This means that we're reducing our reliance on precious treated water for activities like tray and floor washing as well as toilet flushing.

We're helping farmers reduce water wastage and water pollution through our farming for the Future initiative. 95% (259) of our primary produce suppliers and 87 of our secondary suppliers are participating

Through the WWF-SA's Water Balance project, we continue to work extensively in clearing alien vegetation that is estimated to capture up to 7% of South Africa's already scarce water resources. By doing this, we are able to protect our important water resource areas.

WOOLWORTHS BOTTLED WATER Q&A
We understand you may have a few questions surrounding Woolworths in this water-scarce time, we do our best to answer these questions in a handy Q&A, available to read right here
ORDERING WATER ONLINE?
Due to the high demand for water products at the moment across Cape Town and the surrounding areas. We are limiting purchases of still bottled water for online to a maximum per customer order:
500ml Still Water - 96 bottles per online order
500ml x6 Still Water -16 packs per online order
1.5L Still Water - 96 bottles per online order
1.5L x4 Still Water - 24 packs per online order
5L Still Water - 16 bottles per online order