Red wine and garlic braised oxtail
A recipe for slow braised oxtail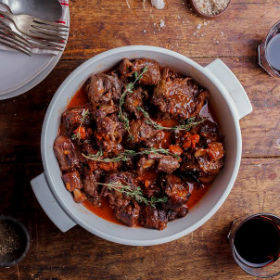 Cooking Instructions
In a large pot, brown the beef in a splash of oil. Remove from the pot and set aside.
Fry the onions, carrots and celery until soft and fragrant then add the garlic, bay leaf and fresh thyme.
Add the tomatoes and sugar and allow to simmer for 5 minutes before adding back the oxtail.
Pour in the red wine and beef stock then season.
Cover the pot and reduce the heat then allow to simmer for 3-4 hours or until the oxtail is meltingly tender, checking on it every 30 minutes or so to ensure the stew hasn't dried out.
Add more stock if necessary.
Serve the oxtail with rice/mash/polenta.
BROWSE OUR RECIPE COLLECTIONS
Ingredients
1.5 kg oxtail
2 large onions, chopped
1 carrots,roughly chopped
1 stalk celery, roughly chopped
4 cloves garlic, crushed
1 bay leaf
4 sprigs thyme
1 x 400 g tin chopped tomatoes
2 Tbsp sugar for the egg whites
500 ml red wine
500 ml beef stock
sea salt and freshly ground black pepper, to taste
Woolworths is committed to sustainability via our good business journey. Seasonal (and other) products might not always be in stock.