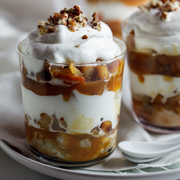 Hot Cross Bun, Pear & Toffee Trifles
Ingredients
4 pears, cored and cubed
335 g butter
1 Tbsp brown or treacle sugar
1 tsp vanilla extract
250 ml whipped cream, to serve
60 g Castor sugar
2 Tbsp woolworths toffee sauce
100 g pecan nuts, toasted and roughly chopped
Woolworths is committed to sustainability via our good business journey. Seasonal (and other) products might not always be in stock.
Cooking Instructions
1. To make the pear compote, heat a frying pan over medium heat then fry saute the pears in the butter for 5 minutes.
2. Add the sugar and vanilla and allow the sugar to caramelise.
3. Remove from the heat and allow to cool slightly.
4. To assemble the trifles, slice the hot cross buns in half then place the bottom halves in the bottom of glasses.
5. Top with a little of the pears, toffee sauce, whipped cream and pecan nuts.
6. Repeat until all the ingredients have been used.
7. Place in the fridge until you are ready to serve.
VISIT OUR EASTER SHOP
EXPLORE MORE EASTER RECIPES
Buy the ingredients
What to buy