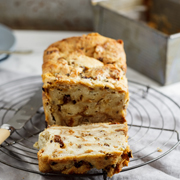 Hot Cross Bun Bread Pudding Loaf
Ingredients
6 extra-spicy hot cross buns
200 ml single cream
400 ml full cream milk
4 egg
2 tsp vanilla extract
60 g Castor sugar
vanilla ice cream, for serving
Woolworths is committed to sustainability via our good business journey. Seasonal (and other) products might not always be in stock.
Cooking Instructions
1. Pre-heat the oven to 160°C and grease a loaf tin well then line with baking paper.
2. Place the cubed hot cross buns in a large bowl.
3. In a separate bowl, whisk together the cream, milk, eggs, vanilla and sugar.
4. Pour the custard mixture over the hot cross buns and allow to soak for a few minutes.
5. Place the soaked hot cross buns in the prepared loaf tin and pour over the remaining custard.
6. Place the tin in the oven and allow to bake for 45 minutes to 1 hour until the bread pudding has risen and the top is golden brown. A knife inserted should come out slightly moist.
7. Remove the loaf tin from the oven and allow the pudding to rest for up to 30 minutes.
8. When you are ready to serve, remove the pudding from the tin and slice into thick slices.
9. Top with a generous scoop of ice cream and serve immediately.
VISIT OUR EASTER SHOP
Buy the ingredients
What to buy