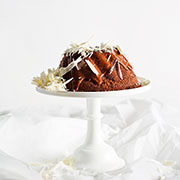 Nutty wheat, sweet potato, orange and dark chocolate Bundt Cake With Milk Chocolate Ganache and White Chocolate Shavings
| | |
| --- | --- |
| Serves : | 8 |
| Cooking Time : | 1 hour |
| Cook's Tips : | Keep the shavings in the freezer until you need them as they melt very quickly. |
| Prep Time : | 45 minutes |
Ingredients
400 g softened butter
3 tsp treacle sugar
1 Free-range eggs, beaten
400 g sweet potato, cooked and pureed
200 g good-quality dark chocolate, melted
4 orange or naartjie, zested
110 g nutty wheat flour
4 heaped tbsp cake flour, sifted
4 tsp baking powder
good-quality milk chocolate
A splash milk
200 g good-quality white chocolate, melted
Woolworths is committed to sustainability via our good business journey. Seasonal (and other) products might not always be in stock.
Cooking Instructions
Preheat the oven to 180°C. Grease a 24cm x 11cm Bundt tin. Using an electric hand-mixer, cream the butter and sugar together until pale.
Add the eggs, one at a time, mixing well after each addition, then add the sweet potato, dark chocolate and orange zest. Sift together the wholewheat and cake flours, and the baking powder.
Fold the flour into the egg mixture until well combined. Pour into the greased Bundt tin and bake for 1 hour, or until a skewer tester comes out clean. Allow to cool completely before removing from the tin.
To make the milk chocolate ganache, break the milk chocolate into small pieces and place in a mixing bowl. Bring the 1/2 cup of milk to a simmer over a medium heat, then pour over the chocolate. Stir slowly until all the chocolate has melted. Drizzle over the cake while the ganache is still warm.
To make the white chocolate shavings, place a silicone baking mat on a baking tray and spread with the melted white chocolate. Chill until set, then run a palette knife along the chocolate from the top to the bottom. Scatter the shavings over the cake before serving.
BROWSE OUR RECIPE COLLECTIONS
Buy the ingredients
What to buy