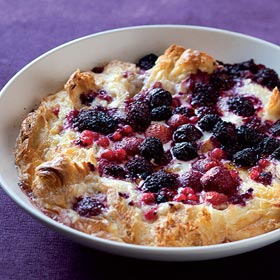 Croissant bread-and-butter pudding with mixed berries
| | |
| --- | --- |
| Recipe By: | Hannah Lewry |
| Serves : | 4 to 6 |
| Cooking Time : | 30 minutes |
| Prep Time : | 15 minutes |
Ingredients
4 croissants
335 g butter
raspberry or strawberry jam, for spreading
4 extra-large free-range eggs
A few drops vanilla extract
62.5 ml milk
1 tsp grated lemon zest
2 to 3 generous handfuls of mixed frozen berries, thawed
Woolworths is committed to sustainability via our good business journey. Seasonal (and other) products might not always be in stock.
Cooking Instructions
Pre-heat the oven to 180°C.
Slice croissants in half, butter one side and spread with raspberry or strawberry jam.
Arrange in a greased baking dish.
Whisk together the eggs, vanilla extract, milk and lemon zest, then pour the mixture over the croissant slices and top with generous handfuls of frozen mixed berries.
Bake for 30 minutes, then serve warm.
EXPLORE MORE BERRY RECIPES
BACK TO FLAVOUR SOCIETY
Buy the ingredients
What to buy