Pan Fried Salmon Salad with Caper Mayonnaise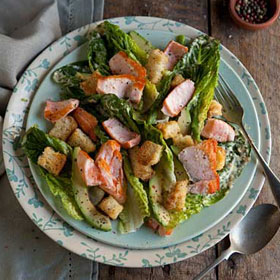 | | |
| --- | --- |
| Recipe By: | Sam Linsell |
| Prep Time : | 10 minutes |
| Serves : | 2 |
| Cooking Time : | 25 minutes |
Cooking Instructions
Pre-heat the oven to 200ºC
Make the seasoned salt by combining all the ingredients and grinding them in a pestle and mortar. Set aside.
To make the croutons, mix the seasoned salt with 3Tbsp olive oil, and brush the slices of ciabatta on both sides. Cut them into small cubes, and spread these on a baking sheet, season with freshly ground pepper, and bake for about 10 – 15 minutes until golden brown, turning over half way through.
While the croutons are in the oven, heat a non stick frying pan. Add the seasoned salt to the olive oil and mix. Brush both sides of the fish with the seasoned oil and fry flesh side down for about 3 – 4 minutes minutes per side, turning once. Set aside.
To make the mayonnaise dressing, whisk the egg yolk and mustard together. Slowly add 60ml olive oil in a small stream whilst whisking all the time. Once the mayonnaise has emulsified, add all the remaining ingredients and mix well. Set aside.
Bring a small pot of water to the boil and blanch the asparagus for 3 minutes. Drain and refresh under cold water and set aside.
When you have all your elements prepared, toss the salad leaves and croutons through the mayonnaise to coat. Place the leaves on a flat plate and top with the avocado and asparagus. Flake the fish into large pieces and place them on the salad.
Ingredients
1 1/4 tsp sea salt flakes
4 tsp fresh ginger, grated
1/4 chilli, finely chopped (optional)
250 g Norwegian salmon portions
Extra virgin olive oil
2-3 heads cos lettuce, for serving
1 avocado, halved, pitted and sliced
170 g asparagus tips, blanched
1 tsp white wine vinegar
5 Tbsp lime juice
1/2 cup capers, chopped
1/2 ciabatta loaf, toasted, for serving
Rainbow peppercorns, grated
Woolworths is committed to sustainability via our good business journey. Seasonal (and other) products might not always be in stock.