Tamatie bredie
A recipe for traditional South African tamatie bredie by Alida Ryder.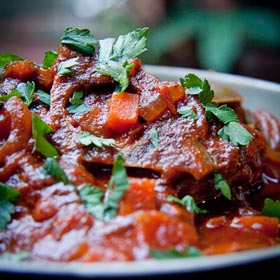 | | |
| --- | --- |
| Serving Suggestion : | Serve with jasmine rice. |
| Prep Time : | 15 minutes |
| Serves : | 8 |
| Cooking Time : | 2 1/2 hours |
Cooking Instructions
Cut through the fat of each piece of lamb neck as this will prevent it from curling up during cooking.
In a large pot, brown the lamb in batches. Remove and set aside.
In the same pot, fry the onions until soft and golden.
Add the garlic and spices and fry for another minute before adding the tomatoes. Cook until the tomatoes are softened and their juices have been released.
Add the lamb back to the pot and stir to coat the lamb with the tomatoes and spices.
Combine the stock, tomato puree and apricot jam and pour over the lamb. You need enough to just cover the lamb. Add the bay leaves.
Reduce the heat, cover and allow to simmer gently for 2 to 2 1/2 hours until the lamb can be pulled from the bone.
Check the seasoning and adjust, it needs to be pleasantly sweet. Serve with the cooked Jasmine Rice.
BROWSE OUR RECIPE COLLECTIONS
Ingredients
2Kg lamb neck
2 large onions
4 cloves garlic cloves, finely chopped
2 tsp ground coriander
2 tsp cumin
2 tsp garam masala or curry powder
1/2 Tbsp ground nutmeg
8 cloves cloves
2 tsp ground cinnamon
3 tsp White sugar
500g cherry tomatoes, halved or 6 medium tomatoes, chopped
750ml chicken/ vegetable stock
1 410g tin tomato puree (not paste)
3 Tbsp apricot jam, melted, plus extra for serving
4 bay leaves
jasmine rice to serve
Woolworths is committed to sustainability via our good business journey. Seasonal (and other) products might not always be in stock.