Hoax Customer Survey & vouchers
We have been made aware of the hoax customer satisfaction surveys and voucher competitions. These surveys and vouchers are circulating via Facebook, Twitter and Whatsapp, and are not authorised by Woolworths.
FAQs
Where do the fake survey and vouchers come from?
We are looking into their origin. However, they appear to feature a wide variety of leading brands locally and internationally.
The text or email is asking for my ID or other personal details. What should I do?
Woolworths Financial Services will never request your ID number or personal details via Whatsapp or Gmail for any credit application or surveys. E-mails or SMSs requesting your details via these channels are scams and should be deleted. If you have any questions regarding your existing loan account, call us on 0861502020.
What can I do if I fill out the fake survey and competitions, and it subscribes me to a mobile service that I do not need?
To unsubscribe and/or manage all wireless application service providers (WASPs), follow the below step-by-step instructions for your network provider: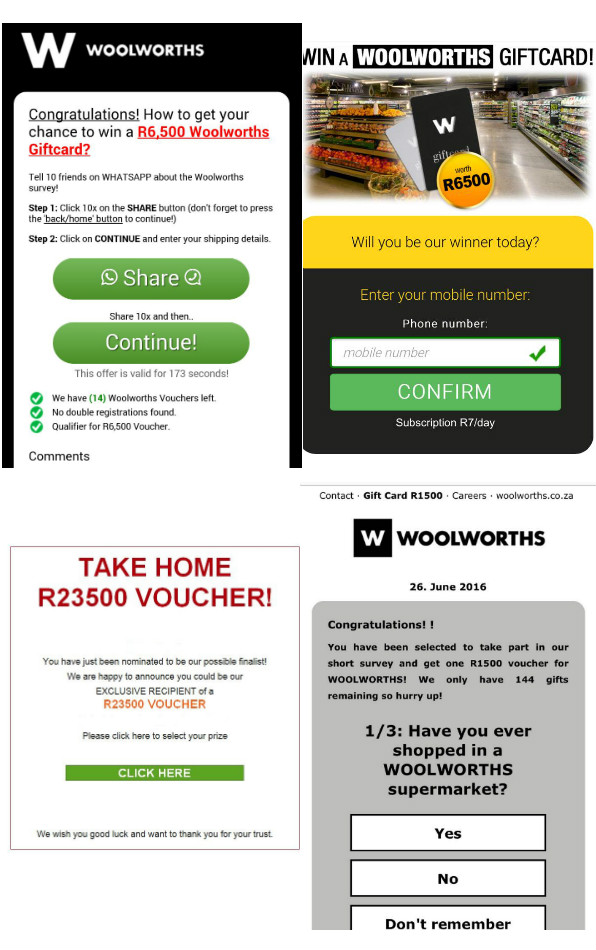 How can I block the fake surveys and competitions?
Vodacom:
Send "STOP ALL" to 30333 to unsubscribe from all WASP services. Wait for the response: "Your Vodacom request to delete all WASP service has been logged". Followed by: "You have been unsubscribed from 'SERVICE' with effect from 'DATE'". Should you receive the message "Your Vodacom request to delete all WASP services has been unsuccessful, Please call Vodacom Customer Care on 082111", then there were no WASPs to unsubscribe from.
Cell C:
Block all existing and future WASP billing by dialling *133*1#
MTN:
Manage all existing and future WASP billing by dialling (*141*5#). By managing your WASPs you can select which services you wish to unsubscribe from and which you wish to keep.
Telkom Mobile:
Telkom Mobile Users are not offered an option for WASPs. In the case of disappearing airtime, please contact Telkom Mobile directly.